The thermal conductivity, λ, is the quantity of heat transmitted, due to unit temperature gradient, in unit time under steady conditions in a direction normal to a surface of unit area, when the heat transfer is dependent only on the temperature gradient [Ref. 2].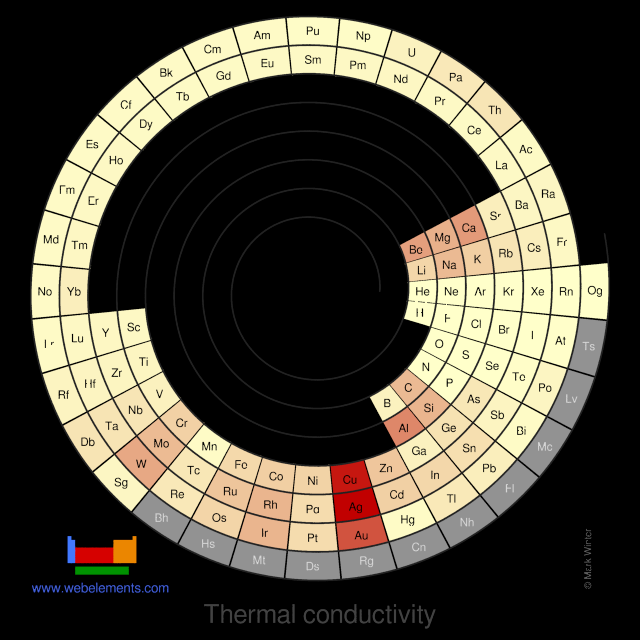 Units
W m-1 K-1
Notes
Values are given at 25&176;C. To convert to W cm-1 K-1, divide by 100.
Values are temperature dependent. Thermal conductivity tends to fall with decreasing purity.
Literature sources
G.W.C. Kaye and T.H. Laby in Tables of physical and chemical constants, Longman, London, UK, 15th edition, 1993.
D.R. Lide, (Ed.) in Chemical Rubber Company handbook of chemistry and physics, CRC Press, Boca Raton, Florida, USA, 79th edition, 1998.
J.A. Dean (ed) in Lange's Handbook of Chemistry, McGraw-Hill, New York, USA, 14th edition, 1992.
A.M. James and M.P. Lord in Macmillan's Chemical and Physical Data, Macmillan, London, UK, 1992.
Explore the element of your choice through this periodic table.
1
2
3
4
5
6
7
8
9
10
11
12
13
14
15
16
17
18

1

2

3

4

5

6

7

8

9

10

11

12

13

14

15

16

17

18

19

20

21

22

23

24

25

26

27

28

29

30

31

32

33

34

35

36

37

38

39

40

41

42

43

44

45

46

47

48

49

50

51

52

53

54

55

56

*

71

72

73

74

75

76

77

78

79

80

81

82

83

84

85

86

87

88

**

103

104

105

106

107

108

109

110

111

112

113

114

115

116

117

118

*Lanthanoids
*

57

58

59

60

61

62

63

64

65

66

67

68

69

70

**Actinoids
**

89

90

91

92

93

94

95

96

97

98

99

100

101

102